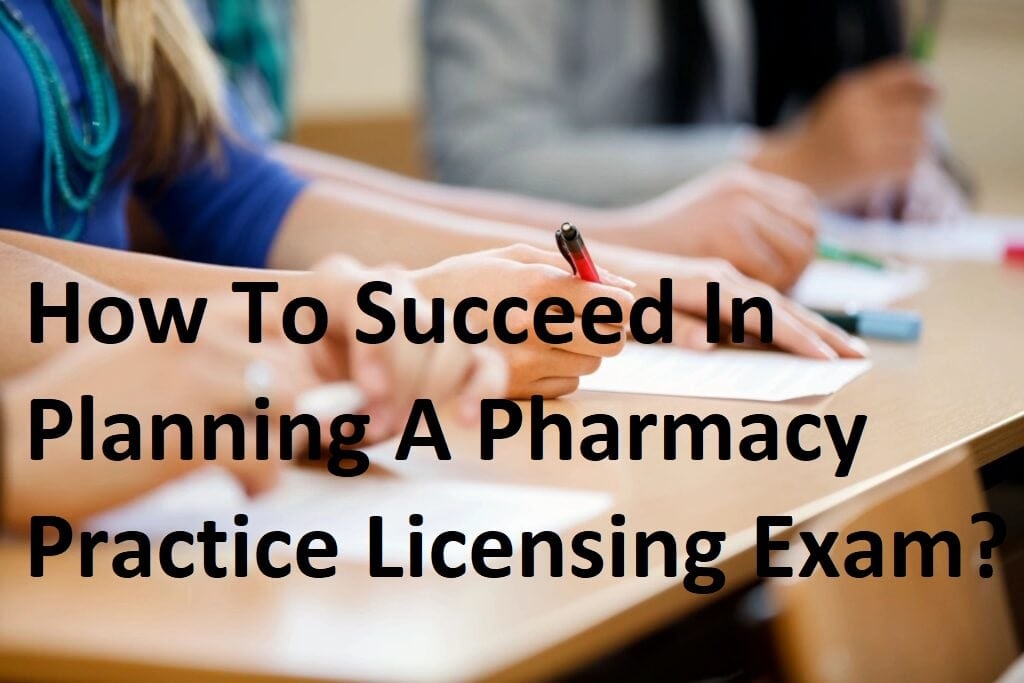 Passing the pharmacy practice licensing exam may seem like a daunting task. But it is not! Why? Because you are already a pharmacist. Remember you just need to review what you have learned before. That's it! But to get the best outcome of your pharmacy practice study, what you need is a well-organized and an engineered plan.
An efficient pharmacy practice study plan enables you to review the maximum number of topics in the least amount of time and at the same time provides you with the most number of self-assessments. What we are talking about is the basics of a plan which can help you achieve these goals. What you are going to do should be SMART; that is, Specific, Measurable, Attainable, Realistic and Timely. You should know your goals and what you are doing to achieve them specifically. What you are doing and what you are trying to achieve should be measurable and attainable. Be realistic about your goals and what you are doing to fulfil them and have a time frame for doing them. If your plan meets all these points precisely, then your pharmacy practice study journey will end in sweet victory.
Now let's have an example: If I say "I want to study 1000 pages within the next hour" how does it sound to you? It is measurable, specific and timely, but it is not attainable or realistic.
Your pharmacy practice study project contains three phases: Initial Assessment, Planning & Implementation
Initial Assessment
It is a good idea that before starting to study, you assess your pharmacy practice knowledge. The goal of the assessment is to have a clear and accurate understanding of your pharmacy practice knowledge and readiness to do your pharmacy practice exam. You need to know where you are and how far you are from your destination. After the assessment, you will know which topics you need to spend more time on. Also, you will have an estimation of the required hours of study. The assessment should cover all pharmacy practice topics. The number of questions should be as many as possible to achieve a statistically accurate result. You can have more than one assessment, but in the end, you should put together all the results. When the assessment is done, check your answers. List the topics from the least right answers to the most. Now you have a basic understanding of which topics need more attention and should be reviewed more.
The MCQ-type (Multiple Choice Question) questions are recommended for the initial assessment. MCQ's are quickly answered, easily measurable, challenging (4 or 5 options to pick), and the results are ready instantly. The assessment's outcome should be measured, analyzed and recorded (all the tests and assessments during your pharmacy practice study period should be analyzed and recorded periodically).
Planning
Like other projects in your daily life, pharmacy practice exam preparation also needs a plan. You should set your study goals so you know the answers to your project's 5Ws (what, where, when, why, who). The answers to these questions help you to personalize your study plan and protect you from ending up with the last minute's study stress. The answers save your time during your study period and help you to design a practical study plan for your implementation phase.
A pharmacy practice study plan should be written considering "External" and "Personal" factors.
External factors are those that you have no control over them such as the exam date, the number of participants, how many days you have before your exam, how long the exam takes, the type of questions, exam location, exam resources (if there are specific resources), registrations fee(s) and calendar events & occasions.
There may be other factors that you can think of and add to this list. External factors are present throughout your pharmacy practice study project's life cycle and the exam day. You can not change them, so accept them. Do your best to get the least negative impact from these factors (if they are present) during your pharmacy practice study period. Consider these factors in your planning process wherever they exist.
Personal factors are under your control and you have to manage them based on your requirements and interests. Some of your personal factors are your favourite study hours, places, resources, partner(s), sleep schedule and type of snack.
There are many other personal factor preferences. Think about them and write them in your notebook before you start your planning. Your study plan is a personalized plan based on your knowledge, capabilities, interests and possibilities, so consider all of them.
Like other projects, your study plan should be checked during its life cycle. If for any reason one or more factors (external or personal) change, then your plan may need to change. In such a situation check your plan and if it is necessary, change your plan. The revised plan is the action plan for the rest of your pharmacy practice study period. Do not be afraid of changing your plan if at any time you think it is necessary.
Now you know topics, study hours, study location(s), resources and all other needed information. It is time to schedule your study. In a calendar add your plan day by day; the topics of the day, the required resources, your daily study timetable, your study location and all the required practical information. You are ready to move to your pharmacy practice study phase.
Implementation
The implementation phase is the phase where you have to focus on pharmacy practice study and follow your plan. Now you have all your required resources, you know which topics should be studied before others, you know the study location(s), study partners and other details.
If you see that your plan does not work or you can not follow your plan maybe the plan is not SMART. So take action quickly, fix the problem, revise the plan and continue your study. Your pharmacy practice study in the implementation phase should be measured by multiple assessments. You need to measure your improvement and find how efficient it is. You also need to keep in mind the topics you have studied previously. Take note of important and significant points in your notebook for quick future reference. Have self-assessments during this phase constantly to review and measure the previously studied topics.