Membership Promotion of Pharmacy Practice Exam Preparation Resource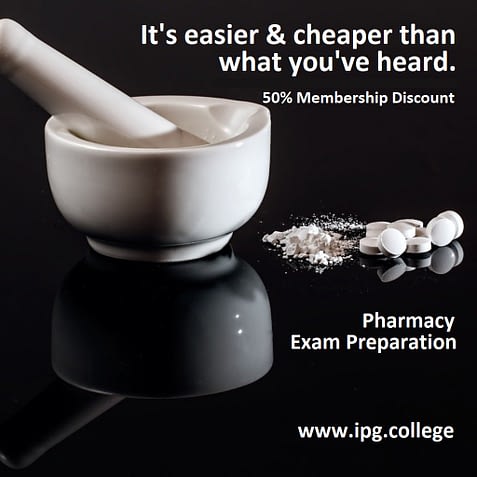 Welcome to IPG College,
Thank you for your interest in membership at IPG College. Please download the e-brochure for more specific information. Do not forget to have a look at the offered membership promotion and Contact us for any comments and questions. If you have not registered yet, visit the registration page and do it now. No credit card is needed for Free Membership, just your e-mail and username are enough.
Gold Membership
365 days
$ 150
(Regular Price $ 300)
50% Discount and full access to the contents of the website for 365 days.
Gold Membership:
1- Access time: 365 days
2- Contents:
>Online tests
>Cardiovascular disorders (Arrhythmias, Heart failure, Hyperlipidemia & Hypertension)
>Psychiatric & Neurologic disorders (Anxiety, Bipolar, Dementia, Depression, Parkinson's Disease, Psychosis, Seizures & Serotonin syndrome)
>Bone & Joint disorders (Osteoporosis, Osteoarthritis & Rheumatoid arthritis)
>Endocrine & metabolic disorders (Diabetes mellitus, Hypothyroidism & Hyperthyroidism)
>Gastrointestinal disorders (Constipation, Diarrhea, Peptic ulcers & Gastroesophageal reflux disorder)
>Genitourinary disorders (Benign prostatic hyperplasia, Erectile dysfunction & Urinary incontinence)
>Skin disorders (Acne vulgaris & Psoriasis)
>Respiratory disorders (Asthma & Chronic Obstructive pulmonary disorder)
>Patients' Drug Education
>Drugs Tables
>Drugs Groups Tables
>Bacteriology & Antibacterial Drugs
Pharmacy Practice Tables Advantages
The structure of the tables and graphs makes it easier to read and follow lines, therefore being less visually straining.
Tables and graphs make the material organized rationally and the review is more efficient.
Tables and graphs divide the topics into small sections which make it simpler to be digested and understood.
The bullets and numbers throughout the tables and graphs aid in more efficient memorization and are helpful reviewing tools.
Graphs specifically help to give the reader a clear and unforgettable understanding of the different characteristics of drugs (ex: half-life, strength, the onset of action, duration of action, etc.)
Online quizzes are FREE practices for self-assessing your knowledge.